Back to Events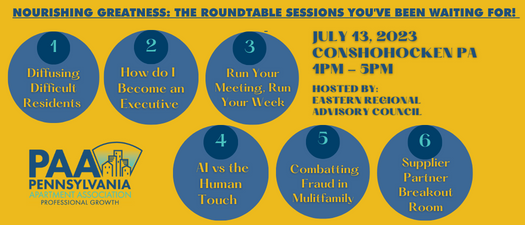 Nourishing Greatness!
The Lunch & Learn Sessions You've been Waiting For!
Thursday, July 13, 2023
Event Details
5 Tables, 5 Topics, 10 Multifamily Executive Leaders plus a Supplier Partner breakout room focused on fun team building activities!!! Join the PAA East Regional Advisory Council for the Lunch & Learn sessions you've been waiting for.
Learn from established leader and emerging leaders at each roundtable. Don't miss out on the discussions that will help move your multifamily career to the NEXT LEVEL. Give your team managers the leadership and strategic thinking skills, support, and tools to elevate themselves and your organization.
Table Topics:
Diffusing Difficult Residents (and maybe a few colleagues)
Veda Williams, Regional Vice President, Klein Company
Jane Ashwood, VP of Property Management, Toll Brothers
Moderater & Table Sponsor – Vicki Shea, Chadwell Supply
So You Want to be an Executive? – What you need to know
Becky Reeves, VP of Operations, Hankin Group
Christine Beechan, Area Vice President, Morgan Properties
Moderator & Table Sponsor - Tom Gibson, Pincus Elevators
Run Your Meeting, Run Your Week – The Art of Planning
Linda Hart, CFO, Scully Company
Angie Cramp, VP of Marketing & Training, Aion
Moderator & Table Sponsor - Julie Murphy, RestoreCore
AI vs the Human Touch – Balancing the Interaction
Dena Hendry, Leasing & Marketing Manager, Hilton Realty
Anthony Calabrese, Director, Greystar
Moderator & Table Sponsor - Michele Anderson, ResPage
Combatting Fraud in Mulitfamily
David DeAugustine, COO, Ingerman
Andrea Hood, Divisional Vice President, Berger Communities
Moderator & Table Sponsor - Lori Lord, MRI Living
Schedule:
1:00 - 1:25 - Registration and Lunch
1:25 - 1:30 - Introductions & Information
1:30 - 2:45 - Roundtables
2:45 - 3:00 - Reflect & Review
3:00 - 5:00 - Happy Hour (free to Property Management Members)
For More Information: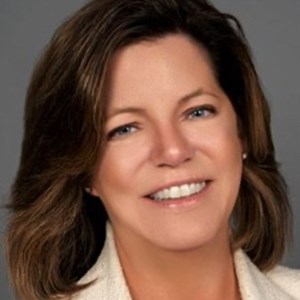 Carol Christner
MSA, CAE
Pennsylvania Apartment Association
(610)664-1800