Back to Events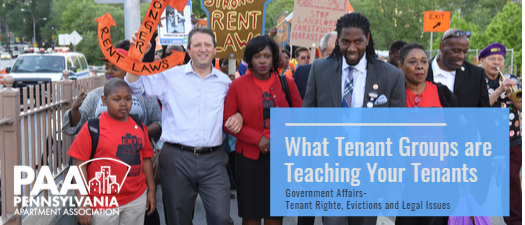 What Tenant Groups are Teaching Your Tenants
Monday, August 23, 2021
10:00 AM - 12:00 PM (EDT)
In Person, Live Stream, and Recorded
Event Details
What Tenant Groups are Teaching Your Tenants
Join Leah Sailhamer, PAA Vice President of Government Affairs, to discuss current issues that are on your tenants' minds and what tenant groups are reaching out and teaching your tenants. Be knowledgeable and proactive for your tenants' and teams. Register early as seating for in person students is limited.
Please note:
Recordings will be available for this class up to ten business days after the class date.
Course disclaimer:
Thank you for taking the time to peruse the Pennsylvania Apartment Association's education course catalog. It should be noted that classes may be moved in physical location, incur a date or time change, change in instructors, potentially cancel due to a low attendance, or any combination thereof. Every effort will be made by the Pennsylvania Apartment Assocation's staff to alert you of any necessary changes in a timely fashion. Your flexibility and understanding of these potential changes is appreciated.