Back to Events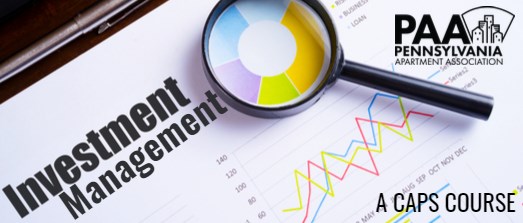 CAPS - Investment Management (Spring 2022)
Thursday, March 10, 2022
You can attend in person in Pittsburgh (The Reserve at Southpoint - 1000 Meadow Ln, Canonsburg, PA), live streaming, or view the recording. 
Event Details
Understanding the financial part of managing multifamily housing communities is critical to the CAPS' success. Ultimately, it is the CAPS' job to help property owners make money. To do that, they need to become fluent in the financials of the business. Once a CAPS has mastered this essential knowledge and can apply it on the job, she will be well on her way to maximizing the financial health and performance of a property owner's investment.
This module is designed to provide the CAPS with the necessary knowledge and skills to take on the responsibility of managing a portfolio of such valuable investments. At the end of this module, you will be able to: View property management from the perspective of a property owner with a significant investment to protect, recognize different types of mortgages and sources of financing and the implications of each on the property's debt service and reporting obligations, lead site teams through the annual budgeting process, work with site teams to monitor property financial performance, identify budget variances, key trends, and opportunities for improvement, and recognize different methods for determining a property's value, and identify ways you can affect that property value.
Instructor : Bill Ardini
_________________________________________________________________________________________
You can attend as in-person, live streaming, or view the recording.
Please note: Recordings will be available for this class up to fifteen business days after the class date.
| | | |
| --- | --- | --- |
| Pricing Level | Member | Non-Member |
| In Person | $235 | $303 |
| Live Stream | $230 | $299 |
| Recording | $230 | $299 |
PAA Education Cancellation Policy
Credential/certification, special trainer led courses or courses with NAA-produced materials: Cancellation (in writing to kmckinney@paahq.com) must be received at least 14 days prior to first day of class for full reimbursement. After this point, only name changes will be accepted.
Other education workshops and seminars: Cancellation must be in writing at least 3 business days prior to the class. 50% fee will be charged. No refund for classes cancelled in less than 3business days. Webinar Wednesdays and Mastering Maintenance Webinars cannot be cancelled within 2 weeks of the Webinar. If you are unable to attend, a link will be sent to you after the webinar which you can view on your own.
After deadlines, only name changes will be accepted, and all invoices must be paid.
Credit will not be given for no-shows.
Only PAA members in good standing will receive the published PAA member rate. The non-member rate will be applied to all registrations that do not include a PAA member number. All membership status questions should be directed to PAA's membership Department at 610.664.1800 or membership@paahq.org.
Consent to Use of Photographic Images
Registration and attendance at, or participation in, NAA meetings and other activities constitutes an agreement by the registrant to NAA's use and distribution (both now and in the future) of the registrant or attendee's image or voice in photographs, videotapes, electronic reproductions, and audio tapes of such events and activities.
For More Information: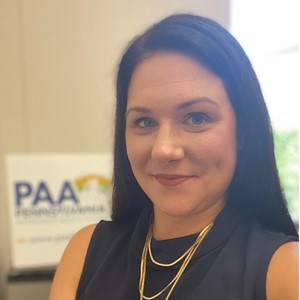 Leah Sailhamer
Nationwide Energy Partners