Back to Events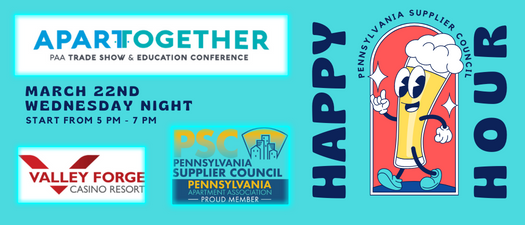 PSC Happy Hour at APARTogether
PSC Sponsored Happy Hour, March 22 after APARTogether Booth Set-up.
Wednesday, March 22, 2023
Event Details
It's a PSC Sponsored Happy Hour for PAA APARTogether Exhibitors!
Wednesday, March 22 for Happy Hour 5pm - 7pm
FREE to all Supplier Partners!
Limit of 4 Tickets per Company.
Registration is required! Seating is limited!
PAA and PSC will be hosting a happy hour on the day before the Trade Show & Education Conference at the
Valley Forge Casino Resort
1160 1st Ave, King of Prussia, PA 19406
The happy hour is located in The Parkview Room (Take Elevator to the Third Floor) at the Valley Forge Casino Resort.
This is a FREE Event and will cover all food and cocktails.
Appetizers will be provided. Seating may be limited.
Members of the PA Supplier Council and PAA staff will be present!
The PSC will host a meeting from 4PM-5:00PM and all PSC Happy Hour registered exhibitors are invited to attend in the Laurel Room.
For More Information:
Beth Weachter
Pennsylvania Apartment Association
(717)546-3396