Back to Products & Services
Recorded CAM Module 1 Industry Essentials 1hr. 21mins.
PAA Recorded Library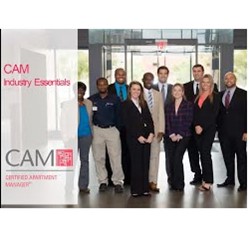 ADVANCE YOUR SKILLS AS A PROPERTY MANAGER OR ASSISTANT PROPERTY MANAGER!
The onsite manager is a vital link between apartment residents and the community owners and investors. This CAM module provides high quality training on virtually all aspects of property management. The CAM curriculum has been redesigned and improved and includes in-class videos to demonstrate certain concepts and situations.  
You'll learn about:
Occupancy rates
Comprehensive marketing plans
Sales team management and product readiness
Equitable treatment of current and potential residents
Resident retention and the maintenance of a positive company image
Consistent and ongoing resident communication
Positive resident service and issue resolution
Enforcement of company policy in compliance with laws and regulations
Property inspections
Preventive maintenance programs
Service request process
Apartment turnover process
Contractors and vendors
Recruitment, hiring, orientation and training of high-caliber employees
Systematic employee evaluation
Employment regulations and record keeping
Analysis of the property's financial operations with corrective actions for underperformance
Monitoring of property performance to achieve the owner's investment goals
Accounting principles and practices
Maximizing net operating income
Reporting property performance honestly and accurately
---