Back to Products & Services
Recorded Fair Housing Seminar
PAA Recorded Library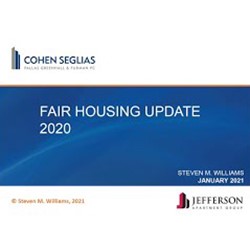 Join Steve Williams, Esq., from Cohen Seglias, along with your colleagues in understanding the current standards for fair housing in the apartment industry. This workshop uses scenarios to demonstrate how real-life situations require critical thinking and prudent decision-making.
This course vividly shows the serious consequences of incorrect responses and provides coaching on how to avoid costly mistakes.
You will gain relevant knowledge of fair housing essentials — practical explanations of how federal, state and local protected classes and barred discriminatory acts impact on property operations.
---