Back to Products & Services
Recorded Landlord Tenant Law A to Z 3hrs. 7mins.
PAA Recorded Library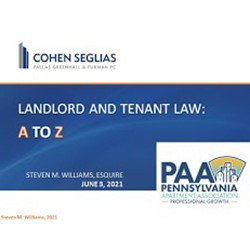 This course will cover all aspects of the landlord and tenant relationship.  We will cover the various laws that apply to the relationship, the importance of various lease provisions, issues that arise during the tenancy, assignments and subletting, landlord's and tenant's rights to the property, terminating the tenancy, default issues, remedies available to landlords, security deposit issues, abandonments by tenants, and bankruptcy issues.
---