Back to Products & Services
Recorded Recruiting and Retention from Hire to Termination 58mins.
PAA Recorded Library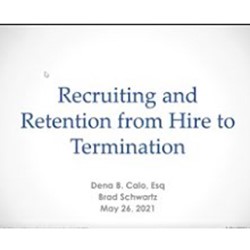 In this class, Dena Calo and Brad Schwartz will walk you through everything from hiring and retaining a great employee till the retirement or firing process. You will learn how to provide a smooth hiring and orientation, how to retain good employees, and how to provide an easy tranisiton of an employee out of a company. Register now as seating is limited!
---